Beethoven's 9th: It's Big!
By Cathy DeDe, Chronicle Managing Editor
What is it about Beethoven's Ninth Symphony?
"It is big in every sense," says Glens Falls Symphony Orchestra conductor-music director Charles Peltz.
The Symphony performs the Ninth — which features Beethoven's famed "Ode to Joy" in its fourth and final movement — on Sunday, May 5, at 4 p.m. at Glens Falls High School.
The program features a chorus of more than 180 singers — 189 as of Monday's count — from the Adirondack Voices, Queensbury High School Madrigal Singers and the school's Concert Choir.
It also includes Leonard Bernstein's Chichester Psalms, completing the Orchestra's year-long dual celebration of Beethoven and Bernstein.
The Ninth? "It's just unique among classical pieces," says Glens Falls Symphony executive director Jennifer Brink.
"It's an amazing piece," says Penny Schiek, who prepared the chorus and will also conduct the Chichester (pronounced chih-chester) Psalms. "The choral movement seems to transcend time. It's a simple, great melody that everyone learns when starting an instrument. Very accessible."
Maestro Peltz said, "It changed the course of music…changed how some composers who came after thought about what a symphony is, that now it must have words and chorus. It must have meaning, something more than a progression of sections marked Andante or Allegro. It created two robust and distinct strains of music composition."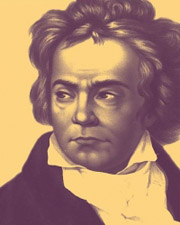 How he thinks of it as he prepares the piece? "You are responsible to this iconic piece of music that is essential to the art. What a privilege that is. You look forward to being part of it, in it, part of this human machine."
"It traverses so much emotional ground, and then the last moment, in a divisive time, could there be any words of more value, that all men will come together as brothers, with a nod to the divine spark."
Ms. Brink notes that the Ninth was performed when the wall between West and East Berlin was taken down. In fact, she says, it was performed twice, on both sides of the fallen wall.
Bernstein himself conducted the second concert, in what would soon be the former East Berlin, with musicians from around the world. He changed the German text of the Ode to "Joy" to "Freedom."
It's so beloved in Japan, Ms. Brink adds, that it is regularly performed by orchestras of 1,000 musicians in stadiums holding tens of thousands of people.
More lore: The Japanese techno-giant SONY, when it first came out with CD technology, based the amount of music the new format could hold — 74 minutes — on how long it takes to play the Ninth, Ms. Brink says. "It tells you how central the Beethoven Nine is around the world. It is unique in how it touches people.
The choral section "has its challenges," Ms. Schiek says — though it's not as challenging as many other choral works. The toughest thing is learning the German, she said.
Ms. Schiek performed it as a student in the Crane School of Music chorus, for opening ceremonies of the 1980 Lake Placid Olympics.
Ms. Brink played the French Horn with the Boise Philharmonic when they performed the Ninth several years back.
She says the piece includes what is among the most challenging of French Horn solos in the repertoire — and Beethoven set it on the fourth horn player (rather than the principal, which is far more typical).
So, it fell to her in that case and it will be played by GFSO Fourth Horn Amy Baker on Sunday.
Ms. Brink sees it as another way the composer "elevated the common man" through this piece.
Maestro Peltz conducted it with the Glens Falls Symphony about 15 years ago, he said. His experience: "Elation and incredible sense of immersion. The piece draws one deeply into it."
Chichester closes Bernstein
Like the Ninth, Maestro Peltz says, Bernstein's Chichester Psalms "speaks to humanity, reflection, and yes, even love."
He notes, "It has a beautiful solo for boy soprano, on the Adonai."
The choral piece, with Hebrew text taken from the Biblical Psalms, stands well alongside the German "Ode to Joy," Maestro Peltz suggests.
Ms. Schiek, who will conduct the Bernstein, says, "It's very Bernstein. He knew melodies but boy, he could also mix it up rhythmically."
Copyright © 2019 Lone Oak Publishing Co., Inc. All Rights Reserved.
GF Symphony kicks off all-Beethoven & Bernstein season
By Patrick Daley, Chronicle Staff Writer
On Sunday, the Glens Falls Symphony dashed from the starting line in what will be a marathon season of exclusively Ludwig van Beethoven and Leonard Bernstein, celebrating the composers' 250th and 100th birthdays (in 2019 and 2018, respectively).
Opening the festivities was Beethoven's Overture to The Creatures of Prometheus, an intentional choice equating both composers to the Titan who stole fire from the gods and gave it to the humans, thus enabling civilization and progress.
"They [Beethoven and Bernstein] gave us something as essential as fire," said Charles Maestro Peltz in his pre-concert talk (which I highly recommend), calling the composers "deeply brave" people who "ignored consequences."
Prometheus opens with a restrained theme but has a very unrestrained ending. It was interesting to watch, between timpanist Nicholas Tariello's as-quiet-as-humanly-possible playing (which I believe is much harder than playing loud) to the interplay between the players with leads and the orchestra that supports and urges them on.
Following was Beethoven's First Symphony, with its humorously deceptive key notations and a plethora of false endings that paint for me a picture of a daring young composer who is starting to have enough artistic security to take risks.
The first movement contains so many dominant-to-tonic leads that the augmented fourth near its end could be the greatest punchline ever ("Wait for it…"). The second is a playful volley that never spins away, with precisely crafted rests and note values. In the third, Beethoven shows why he's the master of variations, and the fourth movement brings us back around. Shout out to the violins and trumpets for their extremely delicate playing. Maybe I'll start my own Quiet Music Awards.
At the end of the concert's first half, I thought, "This is an orchestra to be proud of."
Dexterous, responsible, impeccable.
So, now on to Bernstein. I'll comfortably admit that I prefer Beethoven, as I guessed most people would. Well, I was wrong: His Symphonic Dances from West Side Story to open the concert's second half drew a standing ovation mid-program. It is a show stopper, calling for piano, harp, drum set, auxiliary percussion, more brass, more reeds, even parts for voice ("Mambo!"). It's visual in the way that musicals are; lots of key changes, varying time signatures, quick twists and turns, music that keeps up with the more visual ingredients in Broadway's triple threat: dance and acting.
After that demanding suite, the Overture to Candide to end was really a new beginning. "Pure joy," as Maestro called it.
I agree. To me, the piece's unrelenting parade of catchy, perfect figures was like listening to a carefully curated playlist of hits from one's formative years.
Candide and West Side Story are two examples of Bernstein's need for art to explore political and social issues. As such, the least his music deserves is a place in a dedicated season study, if not much more.
It must take diligence and deliberation to shape a full season dedicated to only two composers, and Sunday's concert was the evidence of the careful thought that Maestro Peltz has put into the celebration.
"I don't think we remember people very well," he said in his pre-concert talk. "We have a responsibility to celebrate people who are not here."
"We've made a statement so that it might last," he said of the music. "It's not enough to play the birthday piece and put it away."
Copyright © 2018 Lone Oak Publishing Co., Inc. All Rights Reserved.
Hundreds of Students Attend Children's Concert
by Samuel Northrop
Post Star April 19, 2019
HUDSON FALLS — Nearly 900 students from across four school districts heard the Glens Falls Symphony perform Thursday morning, April 18, at the inaugural Children's Concert at Hudson Falls High School.
Third through sixth graders from Glens Falls, Hudson Falls, Hartford and Fort Ann saw the symphony's rendition of "Peter and the Wolf," a popular piece from the 1930s where characters are represented by different instruments.
Symphony Executive Director Jennifer Brink said the motivation behind the performance was multifaceted. She said it would serve as an opportunity to expose students who may have never heard the symphony before to the experience in a live setting, as well as encourage students to pursue playing music themselves.
"It is important to us that kids that may not have heard these instruments before can say at the concert, 'I heard the flute and I liked the way it sounds and I want to play that,'" Brink said.
Brink said the timing of the performance for the students is important as well because most schools begin introducing students to instruments in the fourth or fifth grade.
The symphony's music director and conductor, Charles Peltz, said the piece "Peter and the Wolf" was chosen because of its story and accessibility to a young audience.
"It's a privilege to be able to give these young people their first taste of live music," Peltz said. "The fact that it is live and beautiful and powerful is what makes it very special."
Peltz said the performance was as much of gift for the symphony as it was for the students, and he hoped students would find the show interesting.
"I hope they think it's cool," Peltz said. "I hope they realize that real human beings can make exciting sounds and they want more of it."
Fort Ann fifth grader Jadyn Mitchell said the symphony chose a good story and it was entertaining to watch and hear.
Hudson Falls sixth grader Andrew Sandow said he enjoyed the performance and couldn't decide on a favorite instrument because he liked all of them so much.
"Everybody did a good job. It sounded beautiful and I'm glad I was able to hear it," Sandow said.
Jocelin Chaidez-Soberanes and Valeria Lopez, two other Hudson Falls sixth graders, said they enjoyed the show as well and were surprised at how loud it was at times.
Lopez said she was focused on the clarinet because it reminded her of her sister who plays the same instrument all the time at home.
Chaidez-Soberanes said she was watching the violin players because she plays the violin.
"I was watching their fingers," Chaidez-Soberanes said. "I saw that I need to play louder because I don't play loud as much."
Hudson Falls High School Music Teacher Jesse Stevenson said he was approached by the symphony to help arrange the performance, and the only difficult part of the decision was finding a date that worked for all the schools and the symphony.
He said he thinks performances such as the one on April 18 go a long way in piquing students' interest in playing music and also gives kids who are already playing music a chance to see what it looks and sounds like at a professional level.
"It's like our modified basketball team watching the NBA," Stevenson said. "They want to see what to aspire to."
Brink said the symphony was on already on track to not only continue the performance next year, but to expand it.
In her last job, she said the orchestra she worked with would do eight performances over two days for more than 14,000 students.
"I'd like this to be a thing where every kid in the area can say, 'Oh yeah, we had a symphony in my town and that's why I played cello all the way through college,'" Brink said. "That's the kind of thing we're after."